7 Common Facelift Myths You Should Stop Believing
With the increase in non-surgical alternatives for treating the aging face, there has been an increase in myths about the majority of facelift procedures.
Patients today have more choices than ever before for the restoration of a younger, fresher facial appearance. These treatment options range from laser treatment and traditional surgery to dermal fillers. Rhytidectomy, traditionally known as facial lift, is one of the most popular cosmetic surgeries. In 2016, there were approximately 131,000 facial lifts in the US alone, and the number of facial lifts continues to increase every year. Among experienced plastic surgeons, rhytidectomy is considered the gold standard for restoring a youthful appearance.
There are also different alternatives to facelift surgery, (such as a mini facelift, deep-plane facelifts, or eyelifts) which have led to misunderstandings and myths about this procedure. The purpose of this post is to clear up some of these misunderstandings and dispel some common myths surrounding facelift procedures.
Common Myths about Facelift
1. Only women can undergo facelift surgery
Men and women both deserve to feel confident about themselves. A healthy dose of self-esteem can make a big difference in your day-to-day experience. Whether you're male or female, a surgical facelift can give you back a refreshed appearance and boost your confidence. We've seen plenty of men come into our office who were unhappy with the way they looked, and after just one treatment, they felt better about themselves. So if you're ready to take charge of your facial appearance, you can schedule an appointment with our facelift specialist in Beverly Hills
2. Only Older People can benefit from facelift surgery
Many people believe they aren't old enough to be an ideal candidate for facelift surgery, but this can be a destructive myth because the quality of the results and the process for recovery can be affected. Everyone ages differently, which means if you want to enjoy the benefits of facelift surgery, you should consult with a facelift expert to figure out when would be the best time to have it.
3. There's only one type of facelift
Every person has unique features and traits, including facial structure, skin tone, hair color, eye shape, nose size, ear size, jawline, etc. A facelift can help restore your natural facial appearance, but only if performed with the appropriate facelift technique. Your surgeon should take into account your particular needs during your initial consultation. For example, if you're concerned about drooping eyebrows, then a brow lift may be appropriate; if you have loose neck skin, then a neck lift can be the right choice. Or, if you're worried about excess skin around your eyes, then eyelid surgery might be right for you.
4. Injectables Can Achieve the Same Results as a Facelift
"Liquid facelifts," a term commonly used to refer to the combination of injectable fillers and other injections used to rejuvenate loose skin in people who show minimal signs of aging. These treatments are often believed to be able to deliver similar effects as a surgical facial. However, unlike a surgical facial, which addresses the muscles and connective tissue underneath the skin, facial fillers are less invasive procedures that do not address these issues. As far as their longevity goes, liquid facials also have no long-lasting results like surgical procedures.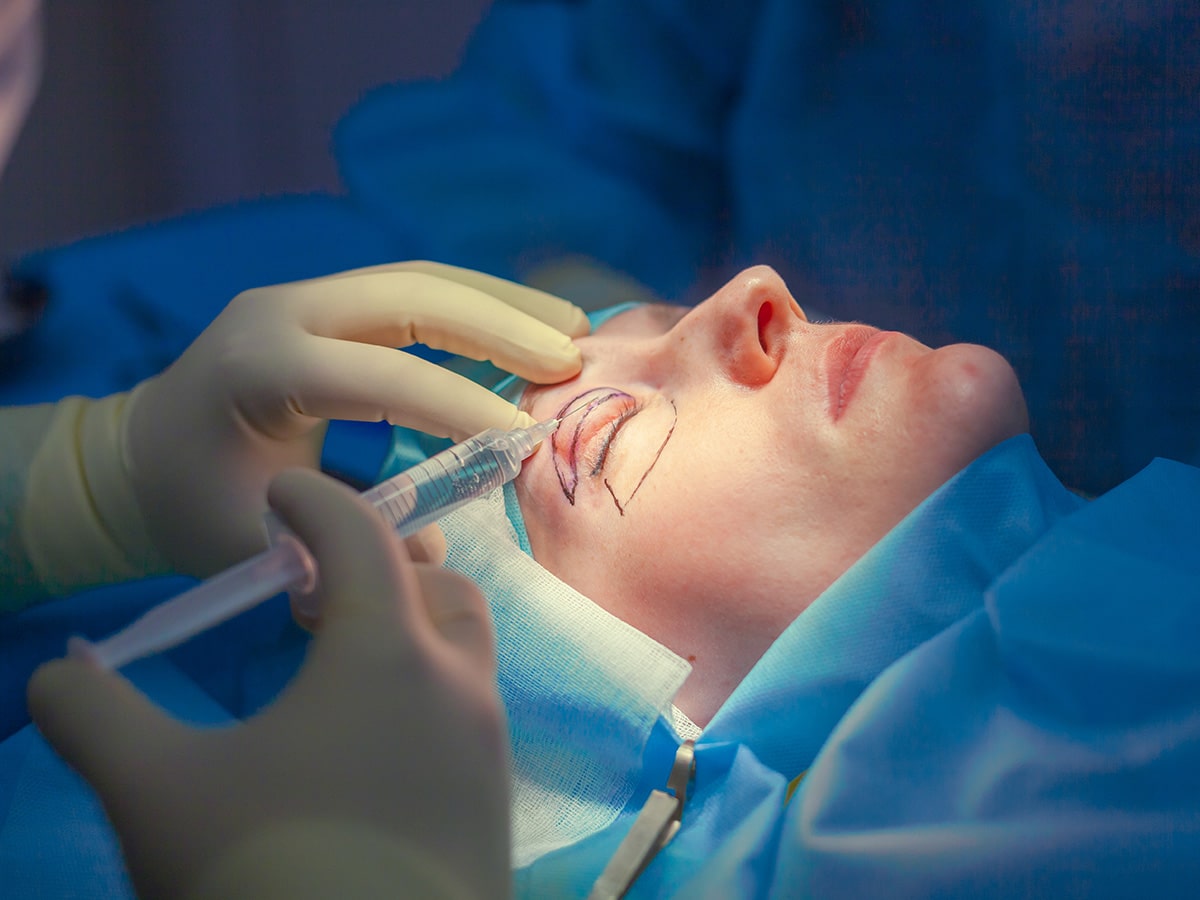 5. Facelift recovery takes time. Pain is always present
Historically, facelift surgery was quite painful, and the recovery process used to take several months. However, today, with modern-day surgical techniques and procedures, the healing time can be completed within just 2 to 3 weeks after surgery. Recovery time is also affected by the quality of care given to the face after the operation and also the natural healing abilities of the individual. Seeing yourself in the mirror quickly improves your self-esteem far beyond any temporary feeling of unease.
As with any operation, after the initial healing phase, the majority of facelift patients should expect to experience moderate discomfort and minimal pain for a couple of days or one week before returning to their normal activities. Facelift surgery patients can take advantage of various techniques to reduce swelling and scarring including ice packs, elevation, compression garments, and massage.
6. Facelifts are Permanent
You should have realistic expectations. Facelifts are not permanent procedures; they don't stop the aging process. However, the results of your facelift may last for several years depending on the type of surgery you receive and other factors, such as:
Weight changes
Excessive Sun exposure
Tobacco & alcohol use
Nutrition
A recent study published by the US National Library of Medicine found that most people who had undergone a facelifting procedure reported that they felt their facial appearance was improved, and that the benefits still are visible for more than five years. Modern facelift surgery doesn't actually end the facial aging process; however, it can improve your overall appearance and give you a fresher, younger feeling for several years.
7. Facelifts look unnatural
Most likely, the idea behind this myth started from silly jokes in pop-cultural media. However, it is very important to understand that your facial plastic surgeon wants to give you natural-looking results. A botched celebrity facelift can easily get much more publicity than any other facelift ever could. In fact, there are actually far more celebrities out there who have had facelifts than you might think. The truth is, there are so many more women and men walking around today who have had plastic surgery procedures done than most folks would believe.
A qualified plastic surgery doctor performs more than just removing excess tissue so that the facial skin can look better; they also alter the muscular structure underneath the skin. By lifting and reshaping facial muscles, facelift specialists are able to improve facial features to give them an attractive and natural appearance.
In the end, the goal of facelift surgery is to improve someone's appearance without making them look unnatural or like they're a completely different person.
If you want to see how natural and youthful your facial features can be after this cosmetic procedure, here are some real before and after pictures.
Facelift Myths Conclusion
Having debunked some of the most common myths about facelifts, we can safely conclude that facial surgery is an excellent way to fight against facial aging. However, you need to be careful when choosing a surgeon because there are some who lack the necessary experience and training which can lead to a bad facelift procedure. You need to choose a surgeon who has the right skills to achieve the best result for you.
If you're looking for the best facelift surgeon in Los Angeles or if you have questions about the best facial rejuvenation treatment to rejuvenate your appearance, call our Beverly Hills office in Los Angeles at 310-361-3183 or request a facelift consultation.