Facial Rejuvenation
Dr. Frankel uses this term when several different approaches are employed to create comprehensive rejuvenation. Aging does not affect just one specific part of the face, but all of it, and a well-thought-out, multi-pronged approach is often necessary to deliver a successful outcome.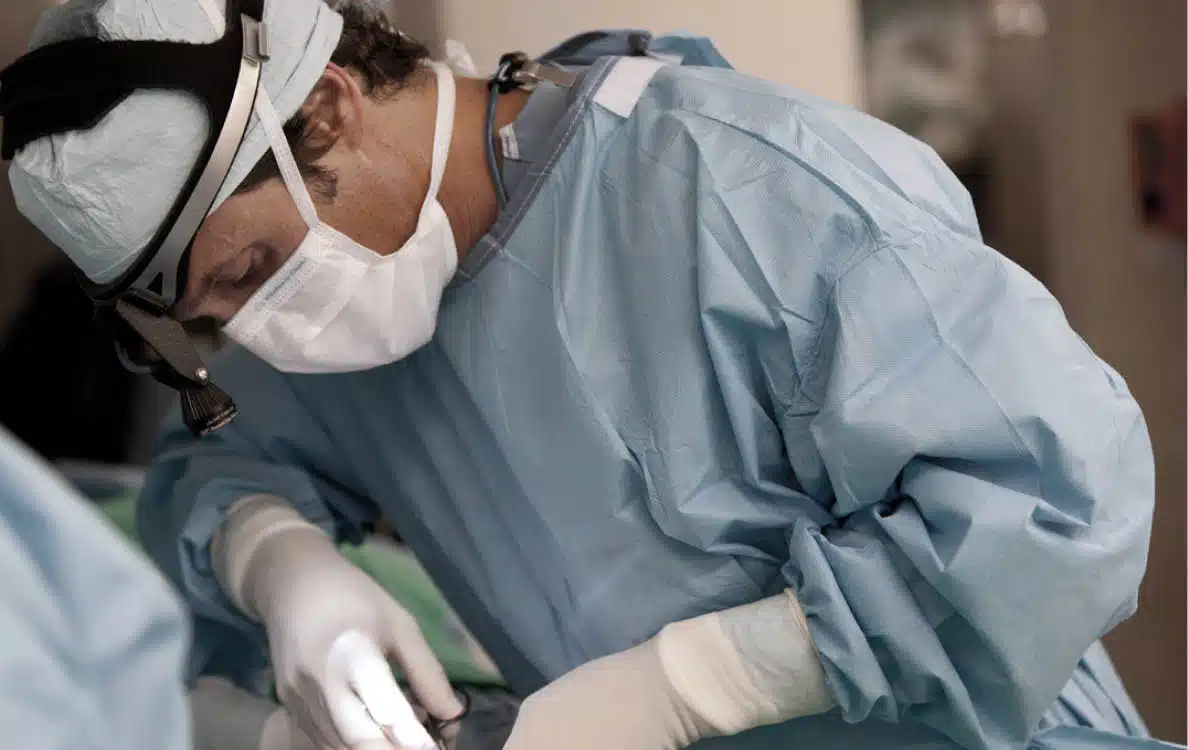 The Facial Rejuvenation Procedure
Multiple surgical procedures are often combined, along with skin treatments and the use of injectable fillers and neuromodulators. There is no single maneuver but a combination of modifications geared toward turning back the clock tastefully and naturally.
Facial Rejuvenation: Consultation and Planning
Dr. Frankel individualizes every patient's care. He invests the time to fully understand patient expectations, learn complete history, evaluate the inside and outside of the nose, and take digital images. Dr. Frankel will discuss the cosmetic and functional expectations of your surgery in detail to ensure all your questions are answered.
Surgical and Non-Surgical Procedures for Facial Rejuvenation
Dr. Frankel customizes every treatment plan to help patients rejuvenate their facial appearance. Treatment plans may incorporate surgical and non-surgical cosmetic procedures for a natural-looking outcome. The combination of modalities can give the face a vibrant and youthful appearance.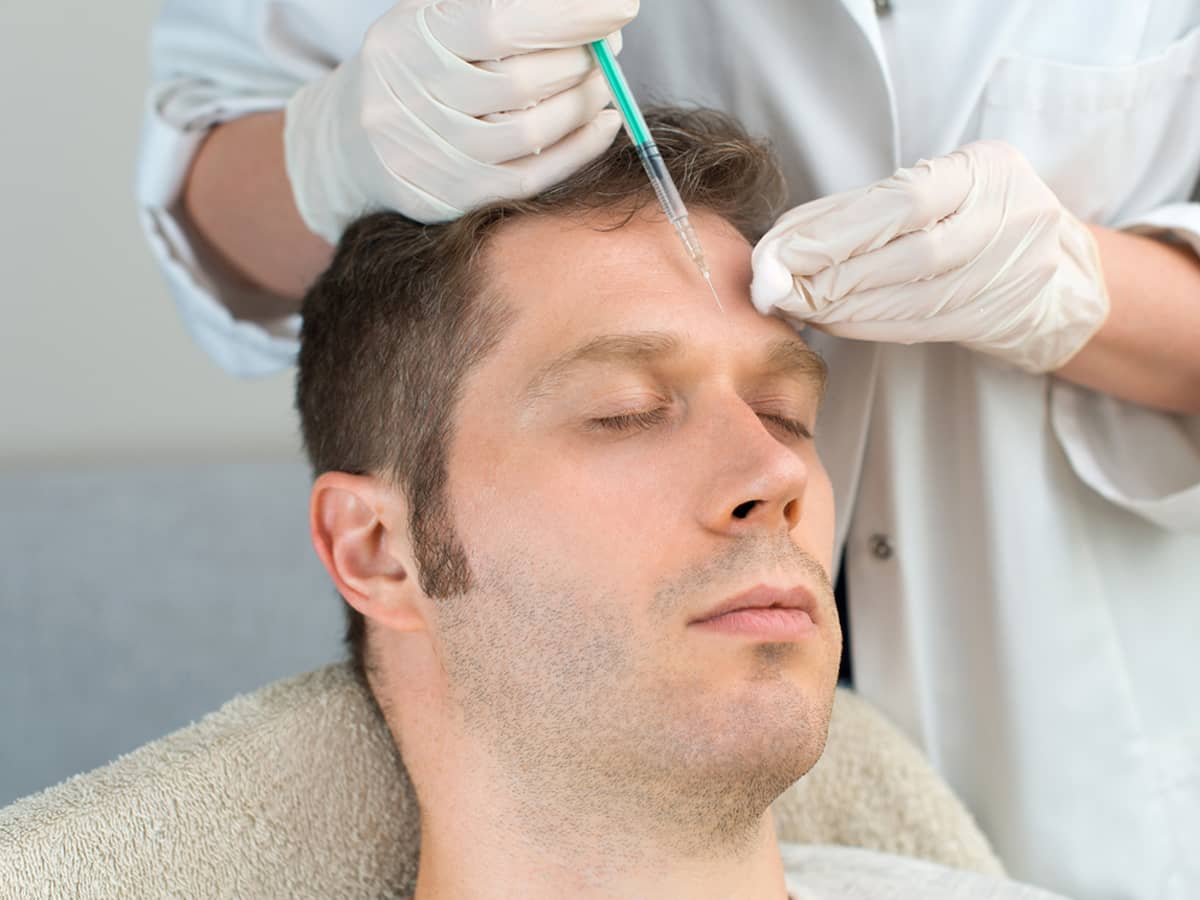 Eyelid Surgery
Cosmetic surgery for eyelid skin is a popular procedure used to improve the appearance of the lower and upper eyelids. The blepharoplasty surgery helps to reduce wrinkles, remove excess skin and fat, and create a more youthful look. It also improves vision if drooping lids are causing an obstruction. During the procedure, extra tissue is removed from the area around the eyes to give it a smoother look. In some cases, a small incision may be made to reposition sagging muscles or fat pads as well.
Neck lift
A neck lift is a surgical procedure to reduce baggy skin and other aging signs in the neck. Excess fat is removed, and the skin and underlying muscle are pulled tight to create a smoother and firmer appearance. This also results in improved contours in the neck and jawline. The result is a more youthful look.
Facelift
A facelift reduces the signs of age, such as wrinkles, fine lines, and sagging skin. Through this procedure, facial tissues are repositioned and tightened to give a more radiant appearance. The result is firmer skin that looks younger.
Dermal Fillers
Facial aging is often linked to a decrease in collagen production. This can cause the facial volume to decline, leading to wrinkles, skin sagging, and hollowness around the eyes and cheeks. Dermal fillers can combat this issue by restoring lost volume and creating smoother skin. These injections provide a support structure that promotes collagen production while still resulting in a radiant complexion.
Hyaluronic acid dermal fillers are an excellent option for those looking to restore lost volume and get a healthy glow. Hyaluronic acid is naturally occurring in the body and helps to moisturize the skin.
Skin Laser Treatment
Skin laser treatment is an effective method of skin rejuvenation. Lasers work by targeting deeper layers to stimulate collagen production and reduce wrinkles, fine lines, and other such signs of aging. It also improves discoloration and texture while giving a smoother complexion. Those hoping to treat sun damage or photo-aging may benefit most from this procedure.
Brow lift
A forehead lift is one such procedure, which can give the forehead a smoother appearance. By repositioning the skin and underlying muscles, this surgery can smooth out wrinkles and other signs of aging to give a natural-looking result. With careful technique and planning, patients can enjoy a rejuvenated look without looking artificial or overdone.
"Aging affects all of us in a predictably similar manner. Our facial skeletons remodel and generally become smaller; the volume of our soft tissues diminishes and the elasticity of our skin dissipates. Repetitive use of certain muscles from facial expressions creates wrinkles and imperfections develop from years of sun exposure.
Effective rejuvenation requires consideration for all of these factors so that the result is harmonious. It should not be that a particular operation causes a certain 'look'. The ideal scenario is for patients to express how they would like to look and then allow me to deliver that to them with whatever methods I feel are going to work best."
– Andrew Frankel, M.D.
Before and after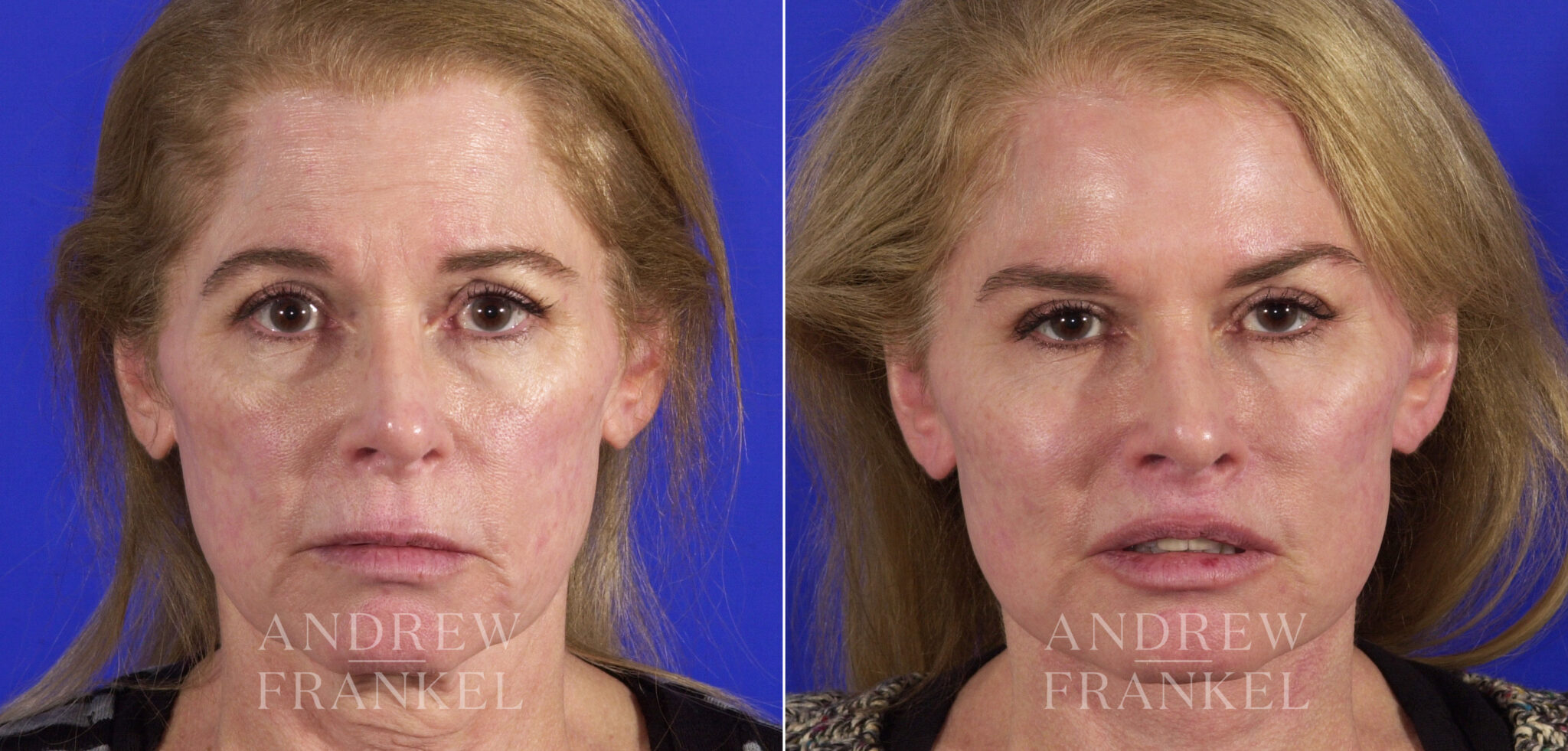 *Each patient is unique and individual results may vary.
READ OUR PATIENT REVIEWS
Read some of the reviews our patients have written about their experiences before and following surgery.
Preparation & Expectations of Facial Rejuvenation Treatment
Preparation for Facial Rejuvenation procedure
Plan to be away from social situations for approximately two and a half weeks after your surgery and schedule accordingly.
You will be required to stop taking certain medications and supplements ten days before your surgery, and the office will provide a list of what to avoid. Routine blood work and medical clearance will be required, and this will be arranged by the office as well.
Certain medications and supplements will be prescribed, and instructions will be provided. Patients must refrain from eating or drinking eight hours before their scheduled surgery time (usually from midnight the night before the operation).
On the day of the procedure, patients must arrive with clean skin that is free of any skin care products or makeup.
Length of Facial Rejuvenation treatment
Highly variable.
Dr. Frankel will give you more detailed information during your consultation.
Recovery time from Facial Rejuvenation treatment
Recovery is also highly variable as it depends on the types of procedures that will be performed.
Regardless, it is unusual for patients to need more than two and a half weeks before they feel comfortable going out socially.
Facial Rejuvenation Aftercare
Dr. Frankel requires the majority of his facial rejuvenation patients to be under the care of a nurse the night of the operation, and the office will assist in making those arrangements.
Most patients experience more discomfort than pain postoperatively, and medications will be provided.
A circumferential head dressing will be removed the morning following the surgery and possibly replaced for another two days.
On the third day following the surgery, there will no longer be any dressing, and patients may shower and wash their hair.
Patients are encouraged to walk soon after their procedure and should otherwise rest and sleep with their heads elevated until directed otherwise.
Sutures are usually removed eight days after the procedure, and at that time, Dr. Frankel usually allows patients to begin very light cardiovascular exercises.
Want to understand more about what to expect on the day of surgery?
Facial Rejuvenation Procedure FAQs
Is facial rejuvenation leave scars? 
Facial rejuvenation techniques and non-surgical treatments can help to lessen the signs of age without serious scarring. Laser resurfacing, dermal fillers, facelifts, brow lifts, and eyelid surgery are all examples of facial rejuvenation surgeries that have minimal visible scarring.
How long the facial rejuvenation results will last?
The duration of facial rejuvenation results may differ according to the type of treatment. Surgical procedures generally produce long-term results, while non-surgical treatments may require maintenance and follow-up sessions to maintain their effects.
What facial rejuvenation office is near me?
If you live near Beverly Hills, CA, DR. Andrew Frankel, offers facial rejuvenation among its services and is conveniently located at 201 S Lasky Dr Beverly Hills, CA 90212