Midface Lift
This procedure improves the aesthetics in the central portion of the face by elevating the facial tissues vertically. When the midfacial volume is suspended higher on the cheek there is improvement in the lower eyelids as well as a softening to the entire face, without any noticeable signs that surgery had been performed. While midface lifting is very helpful to combat aging, it can also be very beneficial for younger patients who feel they look tired.
The Midface Lift Procedure
The midface lift involves incisions made inside of the mouth above the gums and two small incisions made in the temporal scalp. After freeing the soft tissues from the facial bones, they are suspended up to the temples with the aid of the endoscope. Once mobilized, the tissues are engaged with an absorbable device, elevated and secured. The midface lift moves the tissues by dissection and repositions them to heal in a new, more favorable position against the underlying bone.
Combining Surgeries with Midface Lift
Midface lifts can be done alone or in combination with other facial procedures. The procedure involves the use of the fiberoptic endoscope so that it can be done with minimal incisions and employs an absorbable suspension device called the Endotine ST.
"Most surgeons do not perform midface lifts and instead like to inject lots of fat or filler into the face. I do not like to add too much bulk to the face and prefer to elevate the volume that is already there. I originally developed my midface lift technique in 1999 to address problems that I kept seeing in patients who'd had prior facelifts and looked 'windswept' and 'pulled'. It was clear to me that these patients needed to be lifted vertically and that they needed to look less flat.
After several years of modifying my technique, I settled on what I currently do. The effect is to raise the high points of the cheeks to where they once were or a more optimal position. Because only soft tissue is being elevated, the midface lift creates a more youthful rounder look than one might get with placement of hard cheek implants. The face becomes less long and thin, more round and there is improved support to the lower eyelids. A midface lift prevents the "flattening" of the face that can result from a traditional facelift and certainly helps to prevent that "pulled look".
My midface lift provides for a significant overall improvement and yet it is not clear to any observer of exactly what was done."
– Andrew Frankel, M.D.
Before and after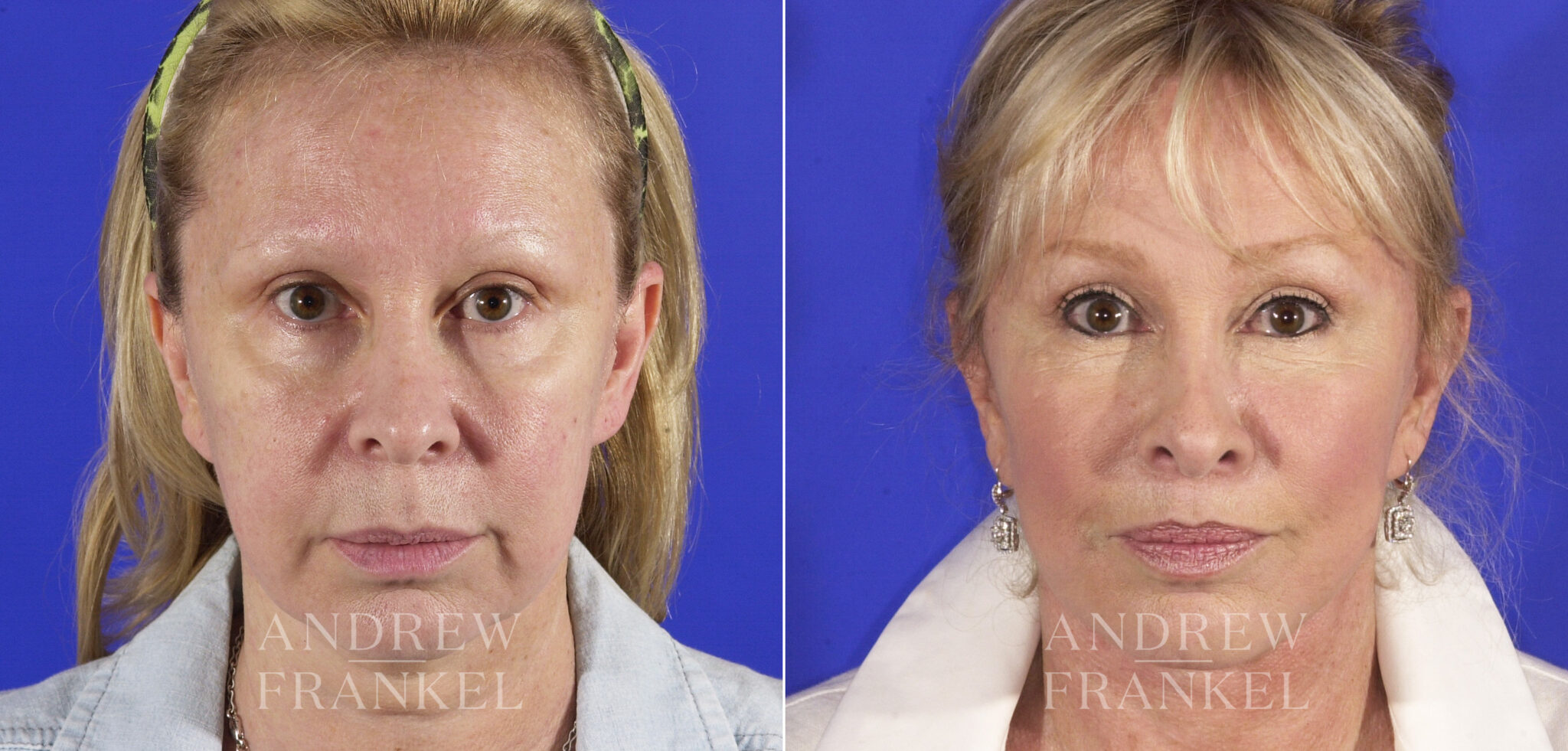 *Each patient is unique and individual results may vary.
READ OUR PATIENT REVIEWS
Read some of the reviews our patients have written about their experiences before and following surgery.
Preparation & Expectations of Midface Lift Treatment
Preparation for Midface Lift
Our office will provide a comprehensive plan for how to prepare for surgery and a list of and vitamins, herbs or medications to avoid in the days and weeks before the procedure. You will also need to stop smoking before and after surgery as it inhibits healing.
Length of Midface Lift treatment
A midface lift takes approximately two hours to complete.
Recovery time from Midface Lift treatment
There is little bruising from this surgery because the dissection is done deep and without much risk for significant bleeding.
There is, however, swelling, and it might look as though your wisdom teeth were removed for several days. Ice and elevation, antibiotics and pain medications are all helpful for the first three days.
Midface Lift Aftercare
There are no visible scars from a midface lift. The incisions inside of the mouth necessitate that patients are on a liquid diet for 24 hours before advancing to a soft diet.
For the first ten days following the surgery the mouth must be rinsed frequently and Dr. Frankel will discuss this with you postoperatively.
The Endotines dissolve over a nine month period and your final outcome will take approximately six months to be complete.
Want to understand more about what to expect on the day of surgery?
Midface Lift Procedure FAQs
What midface lift office is near me?
If you live near Beverly Hills, CA, DR. Andrew Frankel, offers midface lift among its services and is conveniently located at 201 S Lasky Dr Beverly Hills, CA 90212.