Neck Lift Beverly Hills, CA
Dr. Frankel defines a neck lift as an operation that is done to tighten the excess skin and muscles of the neck area without the need for extending incisions in front of the ears. A neck lift is less invasive than a facelift but also more limited in what it seeks to improve.
The Neck Lift Procedure
In some neck lifts a platysmaplasty is also performed to address the area immediately below the chin. A small incision is created under the chin and the loose skin (turkey neck) is widely undermined and freed up from the underlying tissues. Excess fat (double chin) is also removed. Once the neck muscles are tightened the sagging skin is redistributed to allow for it to settle smoothly over the new neck contour. If the neck area skin is excessive it will be tightened by moving it laterally and excising the excess via incisions behind the ear.
Alternatives to Neck Lift Surgery
Technological advances have been made and there are several machines designed to tighten the loose neck skin non surgically and treat the signs of aging. Dr. Frankel offers these treatments at the Lasky Aesthetic and Laser Center and will discuss these options with you at your consultation. While they can render good outcomes and are a valuable part of a graduated approach to the neck area, these non surgical treatments work best on relatively mild problems. No nonsurgical approach can tighten loose muscles though, and rarely will they produce the dramatic results that cosmetic surgery can create.
"My goal at your consultation is to determine the exact cause of what's bothering you and how this can be overcome to achieve the desired results.
After reviewing your anatomy, skin elasticity and discussing your goals, it will be possible to tell you whether a neck lift is an appropriate treatment for your situation. In some cases, patients may have too much soft tissue to fully treat without facelift-type incisions. In other cases, I might be able to suggest a non surgical procedure. It may seem paradoxical, but sometimes more cosmetic surgery is required to render a more natural result. My goal is always for a satisfied patient who has a long standing beautiful outcome. "
– Andrew Frankel, M.D.
Before and after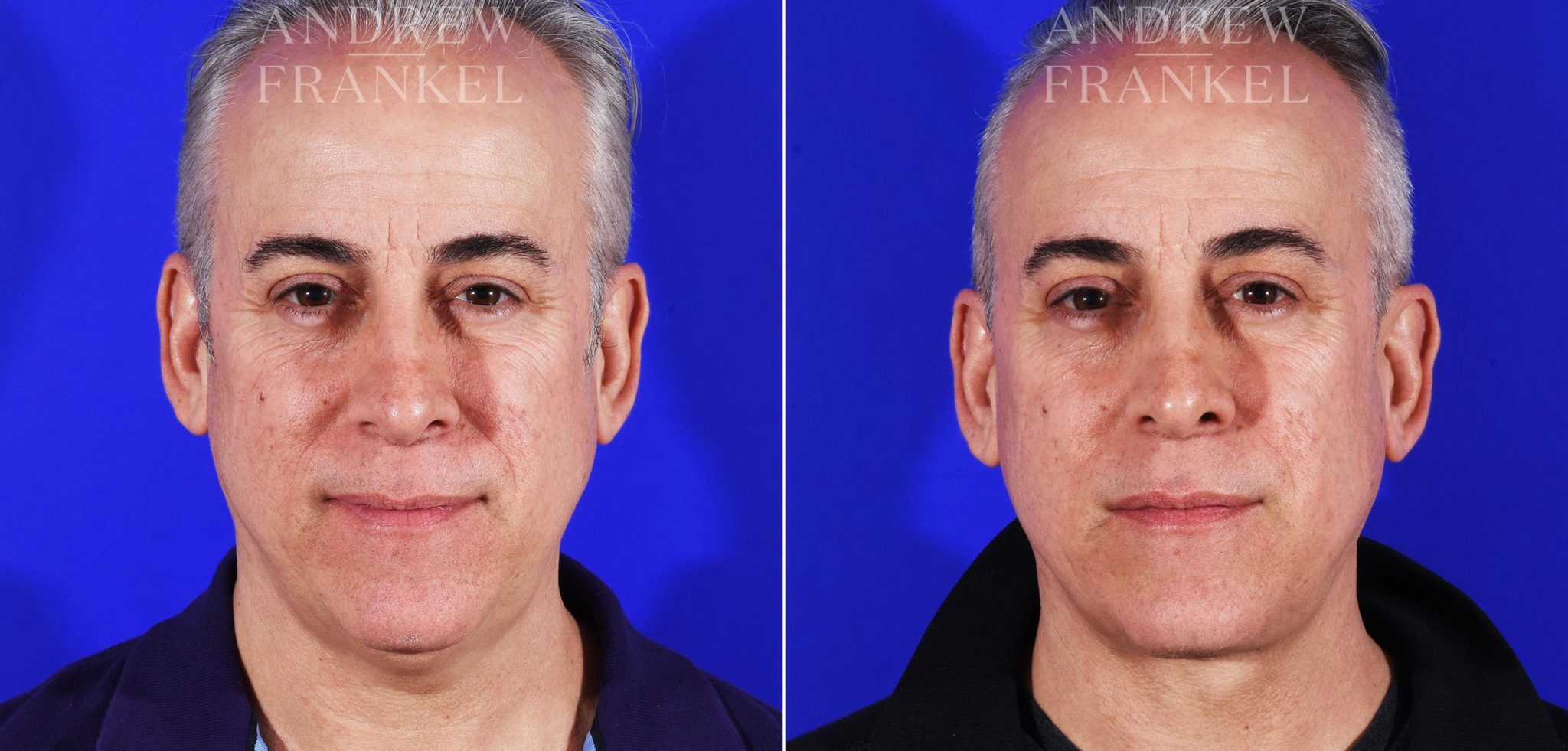 *Each neck lift Beverly Hills patient is unique and individual results may vary.
STILL HAVE QUESTIONS?
Want to understand more about a cosmetic procedure, terminology or just what to expect?
Preparation & Expectations of Neck Lift Treatment
Preparation for Neck Lift
Our office will provide a comprehensive plan for how to prepare for neck lift surgery and a list of and vitamins, herbs or medications to avoid in the days and weeks before the procedure.
You will also need to stop smoking before and after cosmetic surgery as it inhibits healing.
Length of Neck Lift surgery
More information will be provided during your consultation with Dr. Frankel.
Recovery time from Neck Lift surgery
Following a neck lift, expect swelling and bruising. These symptoms are normal and recede after a few weeks.
What isn't normal is fever or strange discharge, such as pus, from the incision site. If that happens, contact your doctor.
Neck Lift Aftercare
Every patient heals differently, but most patients return to work in 10 to 14 days. A compressive dressing is worn for several days to aid in this process.
Avoid strenuous workouts and activities for at least three weeks or as long as your board certified plastic surgeon recommends.
Find out more about the surgical process and how to prepare for neck lift surgery.
Neck Lift Procedure FAQs
What neck lift office is near me?
If you live near Beverly Hills, CA, DR. Andrew Frankel, offers neck lift among its services and is conveniently located at 201 S Lasky Dr Beverly Hills, CA 90212.