Neuromodulators
Neuromodulators are proteins derived from bacteria that have medicinal uses by virtue of their being able to block the transport of certain chemical across nerve endings.
The most common neuromodulator is Botox but there are several FDA-approved and equivalent products on the market. The most common uses for these drugs are to relax overactive muscles and inhibit sweat and salivary gland production. From a facial aesthetics standpoint, injections of these products help to eradicate unwanted wrinkles, modify the shape of the brows, nose, lips, chin, and shrink large muscles or salivary glands that are causing undesirable issues.
Dr. Frankel has over twenty five years of experience and is a leading expert and author of the original studies utilizing Botox to elevate the eyebrows and to improve the shape of the chin. He often applies botox in ways other injectors would never think to do so and performs his injections as if it were an art form.
The Neuromodulator Procedure
A topical anesthetic or ice may be used to numb the area if necessary, though most of the time the procedure causes little pain and is well tolerated without either. Dr. Frankel prefers to inject patients when they are awake and seated upright and interacting with him.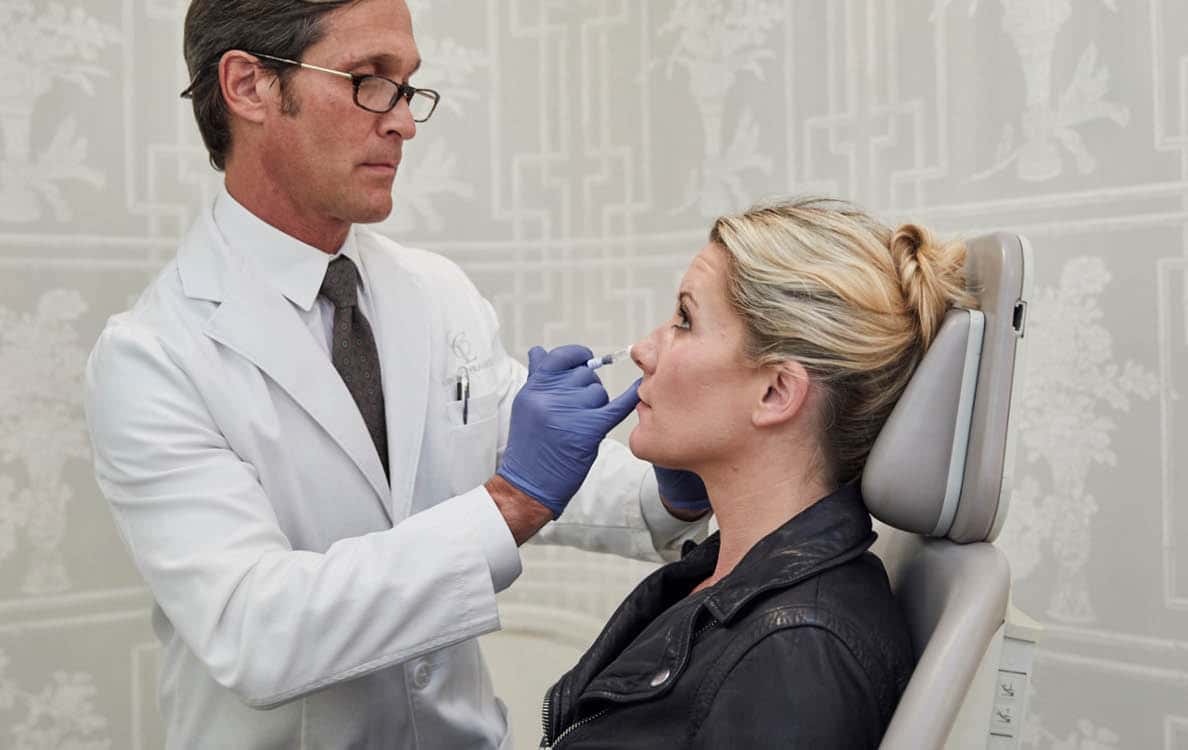 Which Neuromodulator is best for me?
Although these products work very similarly, there are subtle differences between them that come into play. Dr. Frankel uses three neuromodulators in his practice, Botox, Dysport, and Juveau, and chooses the specific product he feels is best for whatever the effect he is trying to achieve. Rarely a patient will have a lackluster response to one product but still respond vigorously to another. Allergies and side effects are extremely rare and similar for each of these neuromodulators.
"I happened to begin my fellowship training just after the first ever report of Botox for cosmetic uses was published and this gave me a head start using this fantastic drug years before the majority of my colleagues.
My Fellowship director, Frank Kamer, simply directed his patients to me for injections and they never questioned what I was injecting or doing. The initial year of patients were astounded by how wonderfully the drug worked and the word quickly spread of their 'secret'. Not long thereafter I performed a clinical study and published the first-ever paper on using Botox for the purpose of elevating the eyebrow and subsequently became one of the world's leading experts on it.
All of my experiences have given me a comfort with these injections and helped me to address many subtle details and asymmetries to provide for refined improvements.
Brow shape, crow's feet, lip lines, neck bands, and even the smile can be modified. I can eliminate dimples in the chin and I published a paper demonstrating that I can even improve chin shape and projection with neuromodulators.
The main point here is that there are many things that can be creatively used for all types of purposes and that every individual requires careful analysis to determine what and how to go about reaching the established goal."
– Andrew Frankel, M.D.
Simple and effective procedure
*Each patient is unique and individual results may vary.
READ OUR PATIENT REVIEWS
Read some of the reviews our patients have written about their experiences before and following surgery.
Preparation & Expectations of Neuromodulator Treatment
Preparation for Neuromodulators Procedure
There is very little preparation required for neuromodulator injections however it is best to avoid certain medications and supplements that might lead to increased bruising. These drugs should not be injected if you are pregnant.
Length of Neuromodulators treatment
Aesthetic injections are a very quick procedure, taking mere minutes after the prep-work has been done. The number of injections will dictate the total time the procedure takes, though it is generally about 15 minutes.
Recovery time from Neuromodulators treatment
Right after the injections there might be some needle marks, bruising and swelling. Applying pressure to the injected areas is to be avoided to prevent spread of the medicine.
Neuromodulators Aftercare
Neuromodulator injections are not permanent and will need to be "touched-up" at regular intervals. The average duration of effectiveness is four months but varies depending on the area treated.
Want to understand more about our approach to patient care?
Neuromodulators Procedure FAQs
What neuromodulators office is near me?
If you live near Beverly Hills, CA, DR. Andrew Frankel, offers neuromodulators among its services and is conveniently located at 201 S Lasky Dr Beverly Hills, CA 90212.